Custom Home Builder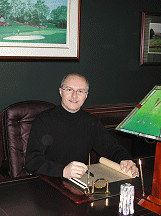 Mastro Design/Builders, Inc., specializes in providing complete professional architectural and construction services for exceptional homes. Since 1986, the firm, a member of the American Institute of Architects and Home Builders Association of Greater Chicago, has designed and built elaborate new homes and additions throughout the Chicago area's most exclusive suburbs.
As architects we focus on each different phase of the project, especially "design". Design is a very powerful word. It means to conceive, invent, contrive and compose visually. It is the flow of each space, how they relate to one another. Design is the feeling each individual space contributes in part to unify the whole.
Every home must have a concept conveyed throughout to achieve cohesiveness and order. Excellent designs contain all the elements listed above, and that translates into a successful composition.
Clients are guided carefully and courteously through every step of the designing process, until their requirements are addressed and satisfied. Every issue is resolved, and special attention to detail is our commitment.
As builders, we have total control of quality, workmanship, budgets and success of the final product. Our team is made up of subcontractors with the same ethical beliefs as our firm.
We will build your dream home on your lot or ours.
Continuously, we monitor each project's construction activities on a computerized schedule in order to maintain the client's desired move-in date.
After moving in, we keep on coming back until everything in your home is just as you expected.